Certified experts in deck staining in Dublin
Need to paint your home's wooden patio or deck? The Dublin Painters is here to help you. Start your free consultation now.
The home's patio or deck holds a special place in our hearts because of the many precious memories we share in this part of the house. We spend our time here relaxing, reading a book, meditating, or having a good conversation with our family and friends.
Over time, this area is worn by many external elements like the weather, dust, or dirt. These harmful elements can be harsh especially to wood and may even cause mould or mildew build-up.
To give your deck or patio a fresh look, The Dublin Painters know exactly what to do. We handle various external house painting tasks that include the fence, gate, decks, patio, etc.
Our team of highly skilled painters can take good care of your wood-related problems such as decay, fading, and similar. We employ a systematic procedure to ensure a quality finish.
Why Choose Us?
Our workers are highly skilled. They are knowledgeable about the different practices in the field because of their wide background.
We are punctual and reliable. We always arrive at the designated time and we do our work within the agreed schedule.
We guarantee 100% completion. We never leave our work unfinished. Excellence and quality are our top priorities.
Cleaning after completion. We make sure that your house remains clean, paint-free, and dust-free after our decorating.
High-grade materials. We only use the best quality of materials for your home and office painting to guarantee perfect results.
We work smoothly and silently. We try to work with as little noise and disruption as possible, so you can continue with your life.
Insured painters. We provide insurance to all our workers and we have carefully checked their background to ensure our client's safety.
Offer a strong work guarantee. If we missed something during our service, we'll return and fix it at your most convenient time.
Previous Work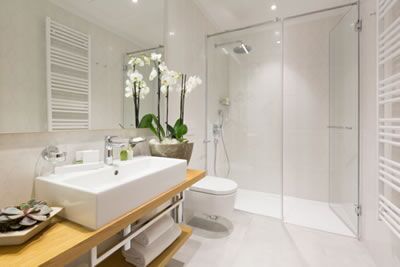 Rathgar, Dublin
Bright Bathrooms
In this home south of the city, our team was tasked with a full bathroom renovation and painting.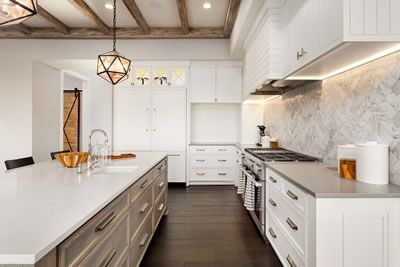 Dundrum, Dublin
Clean Kitchens
In Dundrum the Clancy family needed their new kitchen decorated. They were very happy with the results.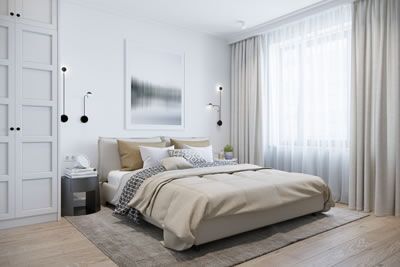 Clontarf, Dublin
Relaxing Bedrooms
In Clontarf Laura McEnany wanted her bedroom repainted and refreshed. We were happy to oblige.
Why hire The Dublin Painters for bathroom painting?
Looking for someone skilled in painting and decorating your home? Contact The Dublin Painters and get your free quote. Browse through our rates and get information about our painting projects or our professional wallpapering services. Our trained crew of painters will be there for you when you need competent brick painting or expert exterior painting in and around Dublin. Contact us to get a free, no-obligation, no-risk quote.
The Dublin Painters have a dedicated customer service hotline for all your questions and consultations.
You can reach The Dublin Painters from 8:00 AM to 8:00 PM daily through our social media accounts (Facebook and Twitter), phone number, email address, and live chat.
Our reputation is unrivaled
Countless 5 star reviews on Facebook and Google
High-grade materials and equipment
Our extensive experience sets us apart from other painting companies
Family owned and operated
Reliable and trustworthy teams
Systematic approach from preparation to clean up
Nobody offers warrantys as strong as ours
Free quotations at times that are convenient to you
Pit estimates are always fair and affordable
Covers many areas in Dublin and other counties
Top-quality deck painting services across Dublin
The Dublin Painters offer various external painting services and deck staining is one of our most in-demand services.
Our team of painters is especially skillful when it comes to wood staining of outdoor wooden decks and patios. We give you the best quality of staining that can withstand severe weather for a long period of time if maintained properly.
It is crucial to use the best kind of wood stain and sealant to achieve a flawless result. We only use high-grade materials and equipment for our work.
With its exposure to outside elements like rain, snow, and many others, we need to take care of the exterior areas to ensure their durability over time. A wooden deck's good condition usually lasts for 2 to 3 years before signs of deterioration.
Contact The Dublin Painters to get a free, no-obligation, and no-risk quotation for deck staining painter services.
Satisfied Customers
Our home looks great and we have gotten lots of comments on the new colours. I will definitely recommend your company to anyone looking for skilled painters in Dublin.
Sean Treacy
Rathmines
I hired The Dublin Painters to repaint my sitting room and hallways and I'm so happy with how it turned out. My home feels brighter and more uplifting when I arrive home from work. Great service.
Cathy Sweetman
Santry
Everything was completed to a very high standard. It was very neat with no touch-ups needed. We felt the price was very fair. Thank you for everything, from the O'Brien family.
Chris O'Brien
Dun Laoghaire
Get in touch today, for a free no obligation quote.
Five Year Insurance-Backed Guarantee
Not satisfied with our work? That's rare, but we will surely fix any problem with our services for free. The Dublin Painters also offer a five-year insurance-backed guarantee for our work.
Free Colour Consultation
The Dublin Painters offer free colour consultation if you need any advice on what paint or wallpaper design best suits your home.
If you need urgent deck staining, contact our expert painter services anytime for free quotation and consultation. We would gladly help you to the best of our knowledge.
Dublin's Leading Deck Staining Experts Give Their Best Tips
How do The Dublin Painters perform deck staining properly?
Our experts usually conduct a thorough inspection to examine what kind of work needs to be done. This is followed by a cleaning method using our heavy, high powered washers to make sure dirt and grime are eliminated.
Once dry, we will handle other preparations like filling in any cracks or holes, sanding, and sealing to ensure smooth application.After all that, we can finally apply one or two topcoats of deck stain or paint. We make sure to discard waste after the procedure is done.
To help you decide on deck staining, we can bring our collection of colour swatches to give you a better picture. Once you're decided on staining, the next thing to choose is what kind of wood stain to use. Is it solid or semi-transparent wood stain? Both have their own advantages and disadvantages that our painter will gladly discuss with you.
Quality work at an affordable price
The deck staining painters we hire are all highly skilled and possess a vast amount of knowledge in the field. They have a wide background in terms of painting, refurbishing, repair, and redecorating different establishments like homes, buildings, and other commercial spaces. They work fast and efficiently to minimise any possible disruption.
Every painter we work with is dependable. They uphold high professional standards at all times. Aside from their skills, their working ethics are also commendable. You can expect them to finish the project within the client's given time frame.
With The Dublin Painters, you get the best value for your money. We make sure that our rates are friendly and competitive to accommodate the budget of our customers. We want to provide our customers with excellent service without costing them a fortune.